WinStart V 2.0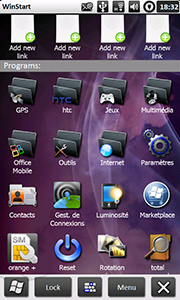 Windows mobile 6.5 introduce a new Start menu. Unfortunately, this start menu was not very customizable... So I decided to recreate the entire menu to make it faster and more customizable.
In addition, the default menu uses a lot of memory (up to 30 MB!). So I tried to create an application that reduces memory consumption (and energy too).
This software is for all screen resolutions (WVGA, VGA, WQVGA, QVGA, square...) and all windows version (after 6.0). You don't need to have Manila on your phone, but the design is a Manila's like...
A new version will come soon (beta stage). This version will add a task management (show and close background applications). You will then be able to save some memory...
Features
Icon's image and name can be changed
Icons can be moved
Background image can be easily changed
Text color of icon can be changed
Lock feature
Quick list of recent programs
Possibility to order icons by name and type
Icon's name can be hidden
Forum :
Admin told:
at 2012-03-11 11:30:53

No, this soft isn't compatible with windows 7... Only with the 6.X windows mobile OS!
lenragm told:
at 2012-03-10 05:14:48

hi, is this version compatiblw with windows 7? Thanks
Admin told:
at 2012-03-06 11:55:34

You just have to use "remove empty space" from the menu...
Or you can select the option "Order alphabetically" also.
june_borlongan told:
at 2012-03-06 11:34:22

I am using a T-mobile HTC HD2 phone. Program icons and folder icons are overlapping leaving empty spaces in between, what do I need to do to correct them?
Please help.
Admin told:
at 2011-01-30 17:45:27

Vous pouvez poster ici votre question concernant les possibilités de WinStart !

You can post here the questions about WinStart
Post a question:
Fil d'ariane
Images aléatoires